You may have used Amazon's previewer tool in the past, where you were able to embed a preview link on your website or blog post. If you had, you will have realized that the widget was starting to show it's age, didn't always work the way it was suppose to, or at all.
That has all changed.
Amazon has updated its Kindle Instant Preview tool and it is wonderful. See below for a sample.
BookGorilla is giving away 50 free copies of
by Anne Hillerman!
Normally $9.99
On sale now $0.99
Beautiful, right?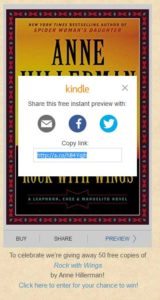 There is so much to love. The look has been updated and the embed is mobile ready. Now, people can easily share your book! Add your Amazon affiliate ID during set up, and when they do share your preview, your affiliate link goes along with it. All while on your author site.
At the top of the embed you have the "Buy" button which opens a new window on Amazon to purchase the book. The "Share" button allows people to either email your preview, post on Facebook,  or tweet on Twitter. They even have a short link that can be shared anywhere, which includes your affiliate link. The bottom section lets you know how much of the free sample is left and will allow you to adjust the font size. Very helpful for small screens!  On computer or tablets, if you click on the "Preview" link, the sample is opened as the same size as the image. However, if you click on the text, it will toggle the bottom options and allow you to view the sample full screen.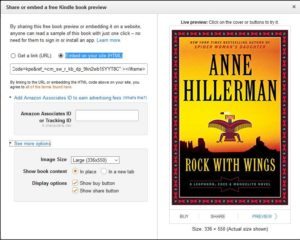 The best part is that Amazon has made this so very easy to set up. First find your book on Amazon. On the right side of the screen, by the share buttons is the <embed> link. Click on that embed link and customize.  You have a choice to create a link that will go to the opened preview pane on Amazon, or the ability to "Embed on your site (HTML)". Here is where you add your Amazon affiliate tag, and make other customizations such as the size of the image.
Not every book may be available, but so far I haven't found one that isn't. If you are already selling the your book(s) directly yourself,  this may not be an ideal option for you. But for many authors, the pain of having to deal with setting up a store to deal with purchases makes this a wonderful alternative. See Amazon for more details.
~ * ~
If you liked this article, please share. If you have suggestions for further articles, articles you would like to submit, or just general comments, please contact me at paula@publetariat.com or leave a message below.