This post by Greta van der Rol originally appeared on Spacefreighters Lounge on 4/16/15.
On Facebook I belong to a number of different writers' groups. Recently, this meme was posted on one of them.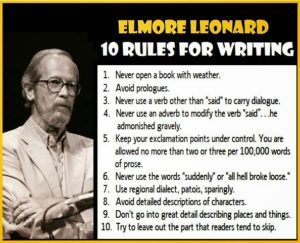 There is nothing more likely to have me doing expletives deleted than seeing a list of "thou shalts" telling prospective authors that this is how they have to do it. Especially with a famous name tagged on to the end. Don't get me wrong, GENERALLY speaking, I would agree that each of these points deserves consideration. But the only one that is really, absolutely, no-holds-barred, TRUE is number…
See if you can work it out.
I particularly object to the word NEVER in these 'rules'. Never is black and white. Let's look at the 'nevers' in this list.
Read the full post on Spacefreighters Lounge.