Quick links, bringing you great articles on writing from all over the web.
Yesterday we talked heroes and character development. Today it is villains and… character development.  Every great story needs a great villain. Really memorable antagonists allow you to almost identify with them, because everyone is a hero in their own story.  Kristian Lamb shares her thoughts on what makes a bad guy legendary.  I always sympathized with Frankenstein's monster, especially after I read the original classic story. What villain resonates for you?

~ * ~
How to Create Legendary Villains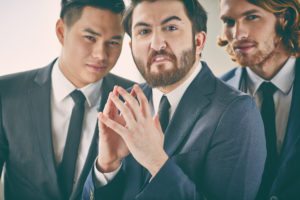 by Kristian Lamb
May 9, 2016
This past Saturday I held my Bullies & Baddies class and a couple of the folks posited a really good question worth talking about. How do we write great villains? One of the reasons I love holding this class is that all stories require a core antagonist (who is responsible for generating the story problem in need of resolution), but there are different types of antagonists. All villains are antagonists but not all antagonists are villains.But since we went there, what goes into creating a truly terrifying villain?
I watch a ton of movies and television series. I also read around three novels a week. I'm always studying, breaking stories apart so that I can understand them better. I do it for my fiction, but also so I can share what I learn with you guys.
Though the series isn't for everyone (it's pretty gory), I particularly love FX's American Horror Story for studying villains. AHS is one of those shows that you have to get a few episodes into before you connect, namely because it is often cast with truly despicable characters.
It isn't until you get a few episodes in that the writers start peeling back the layers and exposing the delicate undersides of the villains…and that's when you really begin to care for them.
I know. Seriously. AHS is some of the best writing out there.
Jessica Lang almost always plays the core antagonist in each season of AHS (though she was absent in Season Five and it was evident). Of all the seasons, though, Season Four Freak Show was my favorite and that's what I am going to use today. Btw, there is a bit of spoiler alert, but it's necessary. So what do we do to really make the villain POP?
~ * ~
If you liked this article, please share. If you have suggestions for further articles, articles you would like to submit, or just general comments, please contact me at paula@publetariat.com or leave a message below.