Quick links, bringing you great articles on writing from all over the web.
Scott Reintgen, (@Scott_Thought) at Fiction University gives an in depth discussion on what makes a great antagonist.  Every story needs a problem for your main character to deal with, usually involving conflict. A great antagonist not only will help tell your tale, but will showcase your main character and allow them to evolve.  As one of my t-shirts says "every great story needs a great villain."

~ * ~
How Do I Hate Thee? Let Me Count the Ways
Tuesday, March 22
By Scott Reintgen, @Scott_Thought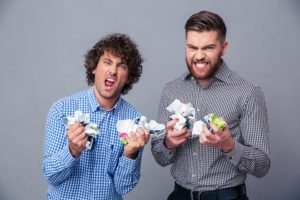 Part of the How They Do It Series
Great antagonists make great stories, but not every bad guy is the "bad guy" of a tale. Sometimes it's all a matter of perspective, and what gets in the way ultimately makes you stronger. Visiting the lecture hall today is Scott Reintgen (It's pronounced Rankin) to share some thoughts on how antagonists work with a story's conflict to produce delightful results. Today is actually his wedding anniversary, so congratulations to Scott and his wife, and best wishes to happy couple.
Scott was always a back-row dreamer. As early as kindergarten, teachers noticed his tendency to stare out of classroom windows and disappear to more interesting elsewheres. Convinced he would one day be a writer, Scott spent most of college and graduate school investing in the world of literature. This eventually led to a career teaching English and Creative Writing in North Carolina. He strongly believes that every student who steps into his classroom has the right to see themselves, vibrant and victorious and on the page. It's his hope to encourage a future full of diverse writers. As he's fond of reminding his students, "You have a story to tell and you're the only one who can tell it."
As for his own writing, Scott continues to follow in the footsteps of his favorite authors. It was Tolkien who once wrote, "The fairy gold (too often) turns to withered leaves when it is brought away. All I can ask is that you, knowing all these things, will receive my withered leaves, as a token at least that my hand once held a little of the gold." And Scott hopes his books are a trail of withered leaves that might lead readers to the bright elsewheres through which he constantly finds himself wandering.
He currently lives in North Carolina with his wife, Katie, and family. His novel The Black Hole of Broken Things comes out in 2017 by Crown Children's.
Website | Facebook | Twitter | Goodreads
Take it away Scott…  
One of the most universal truths in life? Things are against you.
Life is full of conflict. There are things that are trying to stop you, people that are trying to stop you, and sometimes even you are trying to stop you. Stories are no different. When you read a great book, you expect there to be some serious conflict. In fact, my students have voted conflict as the number one answer to, "What makes a good story?" three years in a row now.
So if conflict is expected and important, how we write our antagonists becomes central to writing a good story with a good protagonist. I use a pretty simple method for keeping up with my antagonists. It's the same one I teach to my students. It's called the threefold method.
Read the full post on Fiction University
~ * ~
If you liked this article, please share. If you have suggestions for further articles, articles you would like to submit, or just general comments, please contact me at paula@publetariat.com or leave a message below.