Quick links, bringing you great articles on writing from all over the web.
A growing problem that has been made easier by digital media.. What would you do if you found someone had basically hijacked one of your stories and was making money off of it? Eilis O'Hanlon found out first hand, and shares her story in the Indepentdent.ie site.

~ * ~
The girl who stole my book: How Eilis O'Hanlon found out her crime novels were swiped by a stranger
March 28, 2016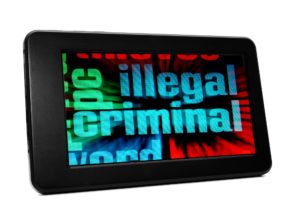 Eilis O'Hanlon
There was something strangely familiar about the crime novel riding high on the Amazon Kindle bestseller lists last autumn. Eilis O'Hanlon ought to know. She'd co-written it almost 13 years earlier. The only problem was that someone else was now claiming to be the author.
Last October, I logged on to Twitter to find that I was now being followed by an account with the username @DonnaPatel. Something made me click on this particular link to see who it was. Call it intuition.
Donna Patel described herself as an "aspie" and "Potterhead", and her most recent interaction had been with an Irish author calling herself "Joanne Clancy".
Donna had been reading Clancy's latest book, Tear Drop, a thriller about the hunt for a serial killer in Cork. At the time, it was the 111th biggest-selling e-book on Amazon's UK division, and the number-one bestseller in Irish crime fiction, and Donna Patel had a simple question for the author: "Are you Ingrid Black?"
Next day, having received no reply to her message, Donna sent another tweet to the same account, saying: "Your book Tear Drop is The Dead by Ingrid Black." Shortly afterwards, a third: "So you must be one of the authors behind Ingrid Black, or you are plagiarising." Shortly afterwards, Joanne Clancy had deleted her account.
I found this exchange particularly interesting, and for a very good reason.
One half of Ingrid Black, to be precise. She is a pseudonym, adopted more than 10 years ago for a joint crime-writing project between myself and my co-author and partner, Ian McConnell, and The Dead was our first book.
The novel featured Saxon, an American former FBI agent turned true-crime author, now living in Dublin and hunting a murderer of young women who has adopted the persona of another serial killer who vanished five years earlier. The Dead had been published as part of a two-book deal by Headline in London in 2003, and was subsequently sold to publishers in the US, Germany, France, the Netherlands and Italy.
The book was encouragingly reviewed. An audio-book version was recorded by actress Tara Ward. There was an advertising campaign on The Tube in London. It sold well. Tesco in the UK bought a large consignment. The film rights were optioned by the BBC. The book also won a Shamus award in the United States for Best First PI Novel.
A year later, we published a sequel – The Dark Eye, again featuring Saxon and her female lover, Detective Chief Inspector Grace Fitzgerald, this time teaming up to investigate an apparently politically motivated killer, known as The Marxman. After a change of agent and publisher, two more novels in the series followed – The Judas Heart (2007) and Circle Of The Dead (2008), both published by Penguin Books.
By this time, however, the editor at Penguin who had championed the books had left for Australia, and, sadly, our new agent died. Feeling like we were back at square one, and not knowing how to start over, Ingrid Black slipped off the radar. In time, the books fell out of print and copyright reverted to us as the original authors.
Read the full post on Indepentdent.ie
~ * ~
If you liked this article, please share. If you have suggestions for further articles, articles you would like to submit, or just general comments, please contact me at paula@publetariat.com or leave a message below.