Quick links, bringing you great articles on writing from all over the web.
A hodgepodge of assorted tips to help you max out your social media reach brought to you by Shayla Eaton and the Curiouser Editing website. Please share any hints you have with hacking social media in the comments below. Mine is to figure out which social media platforms are right for you and focus your attention on one or two of the big ones.

~ * ~
20 Fresh Social Media Tips for Authors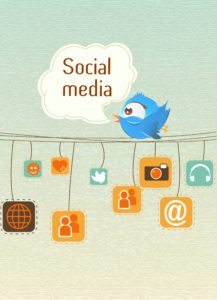 As an author, you already know the importance of being active on social media to help sell books and build a fanbase, so I didn't list tips for beginners. I have a few ideas to help you market yourself—and your book—better on social media. These are tips and tricks I often share with my authors and use for myself.
Pin posts to Twitter, your Facebook page, and your Facebook group (you do have your own Facebook group, right? Because I've only been preaching about this for a million years, give or take). Ensure the pinned post has some type of opt-in for a freebie so they'll subscribe to your emails. If you're pinning a post, then it should tell them to do something.
Add emojis to your Instagram bio to catch attention. I like to use the pointing finger right above my freebie opt-in so that it's the first thing they're directed to. Use emojis in your posts too!
Update your LinkedIn title with stronger keywords. Your title shouldn't say, "Jane Doe, Author." It should say, "Jane Doe, Romance Author of [Title], Part-Time Nurse, Full-Time Mother, Oil Painter." For example, mine says, "President of Curiouser Editing, Author of the Pre-Publishing Checklist, Editor, Writer, and Coach." If you need more help with LinkedIn, I highly recommend The Ultimate Guide to LinkedIn for Business.
Like as many Instagram photos as you can under relevant hashtags (#bookstagram, #bookish, #indieauthor, #writercommunity, #writerlife, #bibliophile, #amwriting, #amreading) to gain more followers. I like to time myself for ten minutes so that I'm not spending a ton of time on it, but I'm still seeing results.
Use the WordSwag app to create visually appealing photos with text for Instagram (or Twitter/Facebook). Foundr Magazine swears by this in their freebie PDF, How to Get Your First 10,000 Instagram Followers.
Read the full post on Curiouser Editing
~ * ~
If you liked this article, please share. If you have suggestions for further articles, articles you would like to submit, or just general comments, please contact me at paula@publetariat.com or leave a message below.